Smokey Eyes
Smokey eyes have been a great hit with eye make up looks and experiment. These have been here for a while and this trend does not show
to be going off either. But to have the look followed successfully you should follow the proper steps and then only can you get the perfect look that does not smudge and make you have raccoon eyes or give you the look of a Halloween vampire.
Smokey eyes look the hottest in evening looks. The picture-perfect smokey eyes come from appropriate blending of eye shadow and the right use of kohl or plain charcoal eye pencil. Mixing light color eye shadow bases with the right amount of dark colors is really necessary to have those smokey eyes.
The mixes that one could try with would be soft gold with deep purple, champagne with bright blue or peach with green. These are easy to use applications that really turn your evening into something fab. You just need to put on the right apparel to turn around the whole mood of the evening and enjoy seducing with those eyes of yours.
With a minimum of 5 minutes you can prep up those lids. It is important to note that your eye area stays well hydrated throughout the year through the gentle application of eye gel every day. This way it would be easier for you to mix color to your lids. From the eyelid crease one can start using a primer 1st to condition the skin there. MAC's "paint" is also a good suggestion for a primer for this purpose.
Then you can line your peeps with dark eyeliner, which could be anything from smoky gray to brown or even dark black or charcoal. If you are opting for jewel colors then you can choose from turquoise, purple or green. Violet also makes a grand base for a smokey look. Silver or gold also produces a great base for the party look that brings about the cutting edge with their use. Do not underestimate the fact that you cannot get the smokey look with these glamorous colors.
Applying eye liner on your upper eye lids will definitely make you have a deeper look, especially when you have it thicken a bit in the middle of your upper eyelid. Applying color to the lower eye lid means that you put that lighter than the shade you had put on your upper eye lid. Or you can just put some eye shadow on the lower eyelids. This will create a shimmery and shiny effect. It will be subtle and blend in properly with the smokey look. Blending in the color of the base with the darker hue in perfect order will actually hold the key to reveal your smokey eyes.
This will give you the smudge effect and with a smooth but swift pattern of eye shadow over your lids will definitely make way for the best that you can use to draw in the greatest smokey look. It is important to note that you have to put the darker shade on the base of the eye shadow of your upper eyelids and the lighter tone by the brow bone. This creates the perfect highlights. You will be able to create a dramatic way through pairing of a lighter base and additional pairing of light and dark on your upper eye lids.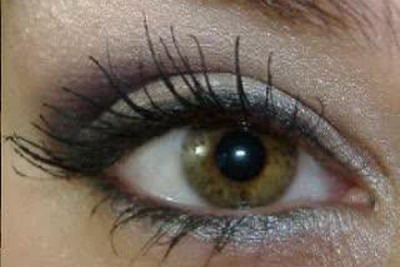 This really makes way for a beautiful light reflecting make up tool in your smokey eyes. Stila's whipped eye shadows have this mousse like consistency that makes this moisture laden make up goody to stay on for a really long time. Colors like taupe and pearl are some of the best and lightest parts of the eye shadow combo that you can pair with darker shades like brown or grey.
Trying playing around with as many pairings as you may fancy and you would never really be short of excitement with each dressing up, instead of planning way ahead what you would be wearing and in what combined effort! Now you have to carefully and gently blend in the two colors to make a matching line of blended color just around the line of eyelashes. Now the color blending should always be made in a singular line while one is blending. It is a very easy and gentle process that makes the color stay close to the lash line and never let it bleed further. This is now the colors near the lash line merge to make a deeper and singular appearing color.
Double checking your work with the blending and the balancing really helps so that you do not make it overshadowed with darkness. You can even use a light sponge or a tiny absorber that takes away any unnecessary excess from your eyelids. Finding double coats of your trusted mascara is also important. L'Oreal Paris and DiorShow have some amazing mascara ranges that come with primer and long, extensive yet thickening purposes. With some of the best voluminizing mascaras one can really have the gorgeous smokey look. It adds a new dimension to your eye shadow play.